3 Cozumel Scuba Diving & Snorkeling Excursions
Cozumel Diving Excursions & Diving Cruise Shore Excursions in Cozumel - Enjoy our selected list of Diving Excursions in Cozumel while in Cozumel cruise port by Shore Excursioneer, the leading independent Cruise Shore Excursion Expert Worldwide!

Cozumel Chankanaab Marine Park 1 Tank SCUBA Dive Excursion - Statues, Reef and Cave Diving

Exclusive offer only with Shore Excursioneer!
Entrance into Chankanaab included ($23.00 USD value for adults, $16.00 USD value for children)!
English-speaking PADI-certified dive master!
Guided One tank SCUBA Dive!
All SCUBA necessary equipment!
Snorkel set including varied sized fins, sanitized snorkel, silicone mask, and vest!
Guided dive of the coral reef, underwater statues, and an underwater cave!
Use of all the Chankanaab facilities - botanical garden (optional guided tour), hammocks, Mayan House (homemade tortillas samples), Tequila Exhibit with samples, Eco-Archeological and Archaeological Prehispanic Replicas, swimming pool, Crocodile Exhibition, and Sea Lion show!
Exclusive and unique opportunity to experience a cave dive! Immerse yourself in the natural beauty of the coral reefs of Cozumel! Dive from shore among tropical fish, colorful reefs, and underwater statues. Snorkel and beach break!
Cancel any time for a full refund
Activity Level:
Active
Minimum Age: 12 Years Old
Excursion ID: S2165
Duration:
At leisure
Languages: EN | ES
Cozumel 2 Tank Marine Park SCUBA Diving Excursion

Fast dive boat limited to small groups per trip for a personalized experience in Cozumel!
English-speaking PADI-certified dive master!
All necessary SCUBA diving equipment!
2-tank dive for certified SCUBA divers!
Two reef dive spots in the Cozumel Marine Park!
Choose with or without gear!
Safe and reliable Cozumel SCUBA diving shore excursion operator!
Access to beach facilities before and after your SCUBA Diving Excursion!
For certified divers, enjoy a great 2 tank SCUBA dive on the reefs in Cozumel's marine park. Tropical fish, walls, coral, and more.
Full refund for cancellations 24+ hours in advance.
Activity Level:
Moderate
Minimum Age: 10 Years Old
Excursion ID: S1283
Duration:
4 hours
Languages: EN | ES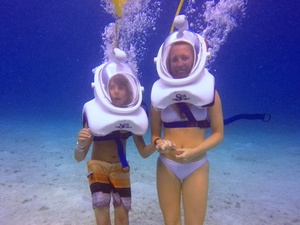 Cozumel Sea Trek Helmet Dive at Chankanaab Excursion Excursion

See some of the best underwater marine life in Cozumel!
All instruction and Sea trek diving equipment is provided!
English-speaking shore excursion guides!
Full access to Chankanaab public facilities including a swimming pool, hammocks, chairs, and more!
Unlimited use of snorkel equipment!
No dive experience is needed!
Your head stays dry inside the Sea Trek diving helmet!
Explore the underwater world of Chankanaab marine park on this fun Sea Trek Helmet Dive excursion. Walk underwater! Safe, fun, and easy for everyone.
Cancel any time for a full refund
Activity Level:
Active
Minimum Age: 8 Years Old
Excursion ID: S3632
Duration:
1 hours 30 min
Languages: EN | ES