Shore Excursioneer Excursions Reviews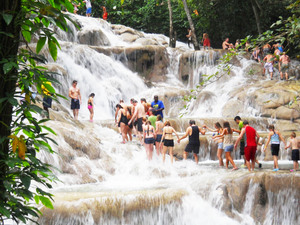 Montego Bay Dunn's River Falls Excursion with Cocktails and Lunch at Reggae Hill S6268
5.0/5










1 Review
+ Add Review

Great adventure, we loved everything about it. The cruise terminal was very busy but we had no problem finding our guide Julio. Thank you!

NoNickname










September 2023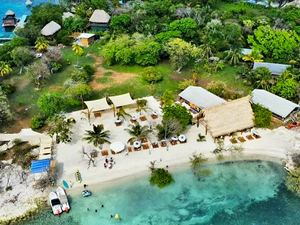 Roatan Monkeys, Sloths, Snorkeling, and Brady's Cay Private Island Beach Excursion S6247
5.0/5










1 Review
+ Add Review

Our tour guide Michelle was awesome! She took us to an exhibit with Guinea pigs, sloths (yes we got to cuddle them), macaws (also held), and monkeys which of course crawled all over us. Very fun, 30-45 min. Then she took us to a lovely little pier where we left to little French key (specifically coco view dropoff) for some BEAUTIFUL snorkeling. About an hour. Then we went to Brady's cay which is a newer beach club that was very peaceful and well kept with lots of shaded seating and.great food and the option to rent kayaks or paddle boards. Lovely spot. She let us stay for about an hour and a half then came to pick us up. she even went out of her way to help us find some Baleadas along the way (a favorite of ours). Would give 10 stars if we could.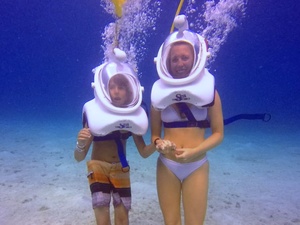 This was a great adventure for the entire family of 7 (with 2 kids). WOW! Would do it again. The park was amazing as well. We will be back!

Jersey
NJ










August 2023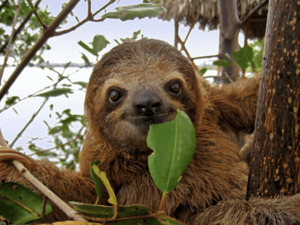 Roatan Sloth Farm and Little French Key Island Beach Excursion with Round-Trip Transport S6237
5.0/5










1 Review
+ Add Review

Our guide Julio was excellent throughout the entire trip. Sloths and beach! The little island was wonderful and food very tasty! Thank you Julio for a wonderful day in Roatan!

Aka Cruize
Ft. Meyers










August 2023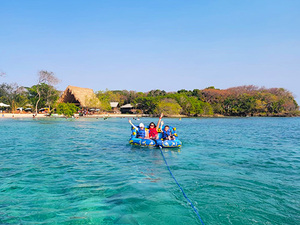 Roatan Brady's Caye Private Island Beach Resort Day Pass Excursion S6250
5.0/5










1 Review
+ Add Review

Our 2nd time to Brady's, we LOVE it! Will be back in a couple of months!

NoNickname










August 2023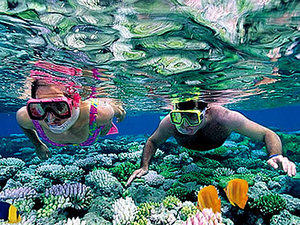 Cozumel Colombia and Palancar Reef Snorkel, and Starfish Sandbar Excursion by Glass Bottom Boat S1287
5.0/5










1 Review
+ Add Review

After taming taxi to pier, you will exit taxi, walk down a little, turn left, immediately turn right and follow down to where all the boats are. We found our tour guide down there in a shirt that said "choc chac", no red shorts white shirt. It's a long ride from pier to where we snorkeled. Tour had 4 stops, lots of on and odd the boat, we got to see starfish and sea turtles and numerous other fish! It stormed like crazy but we kept snorkeling and I loved it. We were offered water, beer, tequila, sandwiches, soda, and fruit. Crew took photos and there's an option to buy them. All in all we'll worth the money. Had a good time.

Melissa Davis
Louisville










July 2023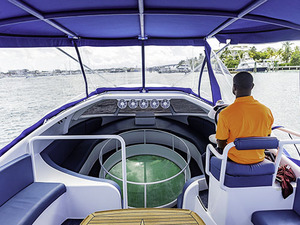 Nassau Hydrofoil Glass Bottom Boat Excursion S6208
5.0/5










1 Review
+ Add Review

We had the opportunity to go on the oculus || today and what a great time we had. Our captain (snow) and skipper (gibson) were a blast. They provided us with great information packed with so much needed jokes. It's a must do if you haven't already.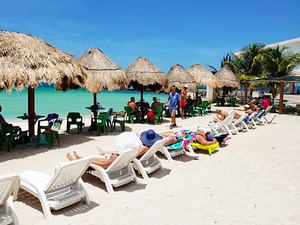 Progreso Vistamar Beach Club Day Pass Excursion S6202
5.0/5










2 Reviews
+ Add Review

Our beach day was the best day of our cruise by far. We were picked up and returned to the pier in a private vehicle so no bus or shuttle to deal with. Our driver even let us stop for pictures! Once at the beach we were catered to for our every need. It was a much needed relaxing day. The beach is small but very secluded. We weren't bothered by anyone at all our entire stay. Our host kept up with the time and made sure we were comfortable knowing she'd have us back to pier in plenty of time. The food was amazing as well as the drinks. We will definitely be back when we're back to progresso.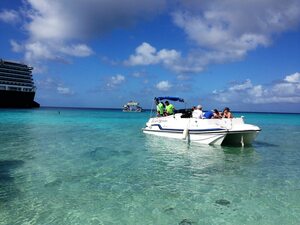 This was an excellent excursion!!! We booked through Shore Excursioneer, so a big thanks to them for finding this wonderful company!! We started with a snorkeling trip where the fish were plentiful. Then we watched our captain, Clay, free dive 25' for conch which would later be eaten as our lunch in a ceviche salad made fresh on the beach. Our pilot Macky was funny and charming as well. They took us to a stunning island where we were free to snorkel, or hike up the high hill to get a better view. Clay then summoned his friend Gypsy, a stingray, to come and spend some time with us. This was awesome!! Each person was able to hold her and receive a stingray back massage. This is the excursion for you if you want to avoid the big crowds and have a fabulous day!! Our day in Grand Turk was perfect!!

Cozumel ATV Jade Cavern, Reef Snorkeling, and Playa Uvas Beach Club Excursion S6197
4.0/5










1 Review
+ Add Review

First our son and his wife booked the same tour as we did separately. But they had no record of their but arranged for the to do another ATV tour. But this was going the only excursion we were going to do together. We were transported to the ATV in a car joined by another large group of 8 or more. Drove the ATV through a village to get to Jade Cavern no one chose to swim. A very strong surfer smell present. Have swam in othe ceneto before. The trail was more of a road the a ATV trail The tequila taste was interesting and very good but a little pricey no one bought any in both groups. We were driven to the beach area We did not drive ourselves as described. We were told we would have 2 hours there but was not possible with our ship departure time. We're only offered fajitas other chooses as in description which were fine $4.50 for a Coke extra. Really not enough time to enough the beach. Or do the guide snorkeling. I had even called before to ask if I should be booked the earlier excursion time but told no this would be fine. The other large group that was with was us had a later departure time did get to stay longer

Joann
Laquey










April 2023