1 Ocho Rios Cultural Excursions
Ocho Rios Cultural Excursions & Cultural Cruise Shore Excursions in Ocho Rios - Enjoy our selected list of Cultural Excursions in Ocho Rios while in Ocho Rios cruise port by Shore Excursioneer, the leading independent Cruise Shore Excursion Expert Worldwide!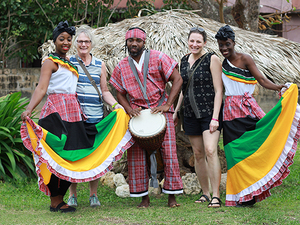 Ocho Rios Taste of Jamaica, Sightseeing and Cooking Excursion S3793

Round trip transportation from your Ocho Rios cruise ship terminal!
Air-conditioned, fully licensed and insured transportation!
English speaking, local and trained excursion guides!
Sightseeing of Fern Gully and Spice Mountain!
Learn about local herbs and spices!
Traditional Jamaican Lunch!
Learn how to cook Jamaican jerk chicken!
Complimentary Fruit Punch, Sorrel Wine (with or without rum), Red Stripe Beer and Water!
See the Jamaican countryside and taste the legendary food. Hands-on, jerk chicken cooking class and dance to reggae music. A perfect shore day!
Activity Level: Low
Minimum Age: All Ages
Duration: 5 hours
Languages: EN