1 Grand Turk Eco & Nature Excursions
Grand Turk Eco Tour Excursions & Eco Tour Cruise Shore Excursions in Grand Turk - Enjoy our selected list of Eco Tour Excursions in Grand Turk while in Grand Turk cruise port by Shore Excursioneer, the leading independent Cruise Shore Excursion Expert Worldwide!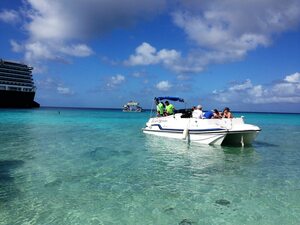 Grand Turk Exclusive Supreme Snorkeling Excursion

Pickup and round-trip boat ride steps away from your Grand Turk cruise ship terminal!
English speaking certified sightseeing and snorkeling guide!
Guided snorkeling at 2 sites - Coral gardens and The Amazing Wall!
Snorkel set includes varied sized fins, sanitized snorkel, masks, and vest!
Complimentary bottled water!
Conch salad and Smooth Island Rum Punch included!
Stingray encounter at Gibbs Cay!
The Turks and Caicos Islands are home to the third largest barrier reef in the world! Book the Grand Turk Exclusive Supreme Snorkeling Excursion and you will have an experience like none-other!
Full refund for cancellations 24+ hours in advance.
Activity Level:
Moderate
Minimum Age:
2 Years Old
Excursion ID: S6183
Duration: 3 hours 30 min
Languages: EN