1 Grand Turk All Terrain Vehicle & Off-Road Excursions
Grand Turk All Terrain Vehicle Excursions & All Terrain Vehicle Cruise Shore Excursions in Grand Turk - Enjoy our selected list of All Terrain Vehicle Excursions in Grand Turk while in Grand Turk cruise port by Shore Excursioneer, the leading independent Cruise Shore Excursion Expert Worldwide!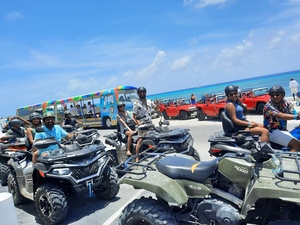 Grand Turk ATV Adventure Excursion

Pick up from your Grand Turk cruise ship terminal!
English-speaking certified ATV guides!
Driving instructions and all security equipment provided!
Automatic CF Moto 600 easy-to-drive ATVs (2-person vehicles).
Cold bottled water
Discover the stunning scenery and island sightseeing on this fun Grand Turk ATV excursion. Explore trails, beaches, and more! This is the only way to see the best off-road sites in Grand Turk!
Full refund for cancellations 24+ hours in advance.
Activity Level:
Moderate
Minimum Age:
12 Years Old
Excursion ID: S6196
Duration: 1 hours 30 min
Languages: EN