1 Ensenada Canoe & Kayak Excursions
Ensenada Canoe/Kayak Excursions & Canoe/Kayak Cruise Shore Excursions in Ensenada - Enjoy our selected list of Canoe/Kayak Excursions in Ensenada while in Ensenada cruise port by Shore Excursioneer, the leading independent Cruise Shore Excursion Expert Worldwide!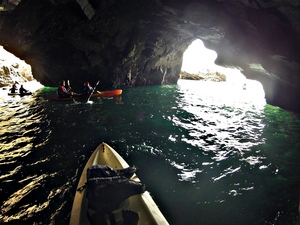 Ensenada Arbolitos Beach Kayak Excursion

Meeting point close to your Ensenada cruise ship pier terminal!
Air-conditioned, fully licensed and insured transportation!
All necessary kayaking gear included!
Bottled water included!
Guided sit-on-top Ensenada shoreline ocean kayaking - single or double riding!
Enjoy a slow paced guided kayak cruise excursion, paddle through rock caves, kelp forests and spectacular Pacific Ocean shoreline. Sit on top kayaks make it fun and easy even if a beginner.
Cancel any time for a full refund
Activity Level:
Moderate
Minimum Age: 5 Years Old
Excursion ID: S1654
Duration:
5 hours
Languages: EN | ES