1 Costa Maya Food and Drink Excursions
Costa Maya Food and Drink Excursions & Food and Drink Cruise Shore Excursions in Costa Maya - Enjoy our selected list of Food and Drink Excursions in Costa Maya while in Costa Maya cruise port by Shore Excursioneer, the leading independent Cruise Shore Excursion Expert Worldwide!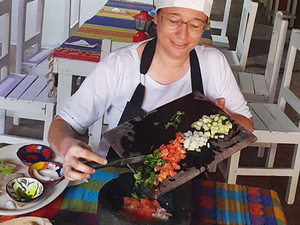 Costa Maya Mexican Cooking Class and Beach Break Excursion S3860

One way transportation from your Costa Maya cruise ship terminal!
Bilingual (English and Spanish) speaking, professional chef/guide!
Learn, create and eat your own Mexican ceviche!
All utensils, materials and equipment are provided for the class!
Use of all the facilities at no extra charge such as lounge chairs, hammocks, restrooms and many others!
Domestic Open Bar including alcoholic and non-alcoholic beverages during the cooking class!
Enjoy your day and a very unique combo excursion in Costa Maya - learn how to prepare a traditional Mexican ceviche as you enjoy delicious margaritas prepared with mezcal and a relaxing beach break.
Activity Level: Low
Minimum Age: 12 Years Old
Duration:
4 hours
Languages: EN | ES