3 Warnemunde Berlin Family Excursions
Warnemunde Berlin Family Excursions & Family Cruise Shore Excursions in Warnemunde Berlin - Enjoy our selected list of Family Excursions in Warnemunde Berlin while in Warnemunde Berlin cruise port by Shore Excursioneer, the leading independent Cruise Shore Excursion Expert Worldwide!

Warnemunde Hop On Hop Off City Sightseeing Bus Excursion in Berlin

Round-trip route with on/off privileges in Berlin!
Comfortable double-decker open-top city shore excursion buses!
Climate-controlled buses with Wi-Fi and Wheelchair access!
Easy to use system map of Berlin!
14 stops to choose from!
Audio narration on the bus - available in 13 languages!
For the best way to explore Berlin is this Warnemunde Excursion, a comfortable double-decker bus that allows you to hop on and hop off at different stops all day is perfect. Whether this is your first visit, or you've been to Berlin before, you can't go wrong with this choice.
Full refund for cancellations 24+ hours in advance.
Activity Level:
Low
Minimum Age: All Ages
Excursion ID: S3181
Duration:
At leisure
Languages: ZH | EN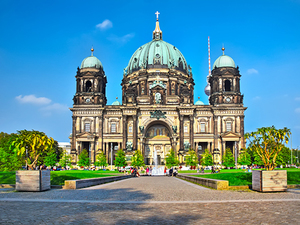 Warnemunde Berlin Highlights and Sachsenhausen Concentration Camp Memorial Excursion

Round-trip transportation from your Warnemunde Cruise pier!
Air-conditioned, fully licensed and insured transportation!
English speaking certified guide!
Visit the Sachsenhausen Concentration Camp Memorial!
Entrance fee to Sachsenhausen Concentration Camp Memorial!
Sightseeing of Berlin's highlights!
Photo stops in Berlin!
Take in the highlights of Berlin followed by a somber visit to the Sachsenhausen Concentration Camp Memorial. Learn about the history, events, and details of Germany's present and past.
Full refund for cancellations 24+ hours in advance.
Activity Level:
Active
Minimum Age: 3 Years Old
Excursion ID: S3545
Duration: 12 hours
Languages: EN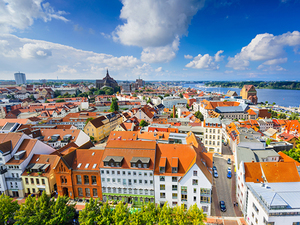 Warnemunde and Rostock Highlights Walking Excursion

Guided walking exploration of Warnemunde and Rostock!
Roundtrip Public Transport tickets from Warnemunde to Rostock!
English speaking professional guide!
See Rostock Town Hall, University, Town Wall and Gates and many more!
Visit St. Marien Church and astronomical clock!
Entrance fee to St. Marien Church!
Free time in Rostock!
Warnemunde is more than just one of the busiest ports in Europe. It is history, it is culture, it is a lively seaside village beckoning the visitor to come and explore. Rostock provides an opportunity to experience old world charm with its impressive monuments, gorgeous gabled houses, great churches with 330 feet high towers, enormous cellars, impressive gates, and massive dams. Explore both!
Full refund for cancellations 24+ hours in advance.
Activity Level:
Active
Minimum Age: 3 Years Old
Excursion ID: S3546
Duration: 5 hours
Languages: EN