2 St. Thomas Interactive Excursions
St. Thomas Interactive Excursions & Interactive Cruise Shore Excursions in St. Thomas - Enjoy our selected list of Interactive Excursions in St. Thomas while in St. Thomas cruise port by Shore Excursioneer, the leading independent Cruise Shore Excursion Expert Worldwide!

St. Thomas Sightseeing, Shopping and Beach Excursion S1471

Round trip transportation from outside your St. Thomas cruise ship pier!
Choose your excursion length!
English speaking certified guides!
See Magen's Beach in St. Thomas!
Spend approx. 2 hours on the beach!
A guided excursion to see St. Thomas with island sightseeing, shopping and beach time.
Activity Level: Low
Minimum Age: All Ages
Duration: Variable
Languages: EN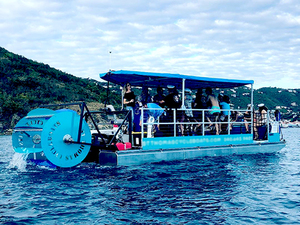 St. Thomas Honeymoon Beach Party Cycleboat and Open Bar Excursion S3838

Unique excursion on board a cycle party boat!
English speaking captain and crew!
Cycleboat powered by up to 16 guests or 50-hp motorboat (up to you and your energy level)!
Stop and free time at Honeymoon Beach!
Music, cups, ice, and FUN!
Unlimited rum punch, bottled water, and ice chests for full excursion!
Great way to see the sights of St. Thomas with daytime and evening departures!
A Boat, Bike, and Bar, ALL IN ONE!
Same cruise line fun excursion at a lower price!
Every vacation should include a day at the beach, and you can do this in St. Thomas on the party boat to Honeymoon Beach. It's a boat, bike, and bar, all in one!
Activity Level: Low
Minimum Age: 12 Years Old
Duration: 3 hours
Languages: EN